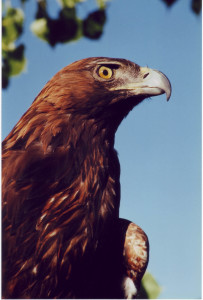 Sadly, we lost this bird in the fall of 2015. He had been fighting aspergillosis, a fungal infection. Due to his age he was no longer able to wage a fierce fight. Out of respect for his dignity and all his years with us, we opted to humanely euthanize him. He is sorely missed by hundreds of people who knew him. We leave his biography here as we continue to honor him and what he did to grow the RMRP's educational program. — December 2015
This Golden Eagle occupies a place of honor within the RMRP. As our first educational eagle, he has taught the staff, volunteers, and supporters of our program about strength and dignity. He was found in December 1987 near Red Feather Lakes, CO, by a group of hunters on horseback who came across a deer carcass that many raptors were feeding on. As the hunters approached, all but this eagle flew away. He wasn't able to fly because he was missing the outer tip of his left wing. The cause of the injury is unknown—perhaps a high-speed collision with a fence line or a necrotic injury from high voltage trauma. The caring group of hunters gathered him up and packed him out on horseback and delivered him to the Rocky Mountain Raptor Program. Not able to ever achieve flight again, he became a permanently disabled Educational Ambassador with the RMRP. Since he came to us as an adult (at least five years old), we do not know exactly how old he is, but we do know that he is more than 32 years old, which exceeds the average lifespan in the wild of 25-30 years.
He was conditioned/trained to be an Educational Ambassador by the RMRP's newly hired (at that time) director, Judy Scherpelz. Both the eagle and Judy are still our leaders in the program. As a bird that has spent most of his years on display at the CSU Environmental Learning Center, he has been seen by many thousands of people and has educated them about the wonders of our natural world. He is older than most of the RMRP volunteers, and has played a vital role in training many highly skilled staff and volunteers to work with eagles, teaching us all about patience and focus. Even though he has been in captivity for almost 30 years, he still maintains all of his wild dignity and strength. This keeps his human handlers on their toes, helping to remind us that he is an apex predator.
What is most extraordinary about this magnificent bird is his underlying strength. Just as humans get the occasional bout of flu or a cold, raptors in captivity can occasionally be susceptible to viral or bacterial infections or diseases carried by mosquitoes. This golden eagle has had his share of the "sniffles," but he has stubbornly fought them off. His original injury easily could have been fatal, but he persevered, survived, and found food on his own until he came to us. Over the years he has had recurrent battles with aspergillosis (a fungal infection that affects the respiratory system), survived an infection of West Nile virus, and most recently some type of encephalitic infection (all diagnostic tests failed to identify what it was). Each time he has experienced these potentially life-ending illnesses, with supportive care, medications, and gentle handling from our staff and volunteers, he has battled through and recovered. What he shows is his amazing spirit to survive and thrive against all odds. The strength of spirit of this old but seemingly wise bird is his greatest lesson for all of us. He is truly a gift to all lives he has touched and continues to touch through the RMRP.
At the moment, he and all our educational raptors are housed at our main facility. Due to concerns about the possible spread of Avian Influenza, they have been taken off display and are in a more biosecure area in order to protect them. You can read more about this precaution on the news page. He is also in partial retirement. But you may have the chance to meet him at any of the public events that we hold at our main facility. Please check our events calendar on our website to find out when those are.
If you would like to contribute to his care please visit our Adopt-a-Raptor page or our Donation page. You can also contribute to our biosecurity in order to help prevent the spread of Avian Influenza into our facility on our gofund.me/RMRPprotect campaign.