To view some of the items up for bid in the 2018 auction, please click

here.

Please check back often! New images will continually be uploaded.

Buy Tickets Now.
Raptoround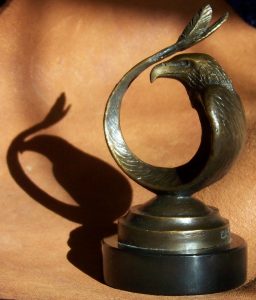 Bronze by Chuck Weaver -  Chuck Weaver was an accomplished bronze artist who loved nature, and captured the beauty of the eagle in this unique piece.  Upon his passing in late 2015, his bronze Raptoround was donated to the RMRP to assist our fundraising efforts.  This item is a unique part of the RMRP live auction:  the high bidder of this item wins the right to display this beautiful bronze in their home – including a plaque denoting their name and the year.  The bronze will then be given back to the RMRP for the next gala dinner and auction.  A plaque is added each year to denote the winner and year.  A large version of this bronze was displayed in Old Town Fort Collins for an extended time.
2017 Raptoround Winner - Ross Cunniff
2016 Raptoround Winner - Maria and John Reed
6th annual RMRP Eggstravaganza. 
Featured Ostrich, Emu, Rhea, and Goose eggs decorated by local talented artists.  You will have a chance to bid on these eggs during the silent auction.
To see all the eggs from previous years click here.
We wish to thank our sponsors of the 2018 Auction: