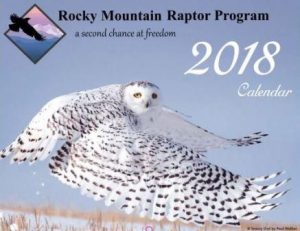 Let raptors inspire you each month with RMRP's limited edition 2018 Calendar.
We carefully selected raptor photos from the nearly 200 photos we received during our 2018 calendar photo contest. The resulting stunning assortment of birds are seen in a spectacularly beautiful calendar.
Are you looking for a gift for a raptor enthusiast? A bird watcher? That person who has everything? Perhaps a gift for yourself to speak to your soul? Look no further.  Order your RMRP 2018 Calendar now!  

The Calendar photos feature raptors from all over the world. Information on each page helps you learn about the individual raptors.
Purchasing one of these calendars will save the life of an injured raptor or provide the funding to teach about raptor conservation.
Website note - All images shown here have a large copyright across the image to protect these fabulous photos from internet thievery.  The actual calendar will have discreet copyright markings so each photo  will be a conversation piece on your wall.
We will also be featuring the following images as small, inset photographs:
Prairie Falcon by Mark Fuller; Golden Eagle by David Terbush; Short Eared Owl by Rea Ann Garrett; Cooper's Hawk by Rea Ann Garrett; Laughing Falcon by Rick Harness; Red Tailed Hawk by Zoe & Ryan Graves; Egyptian Vulture by Craig Meurer; Swainson's Hawk by April Eisele; Bald Eagle by Georgia Evans; Great Grey Owl by Jerry Chase; Eagle by Joanne Matson; Barred Owl by Craig Meurer.