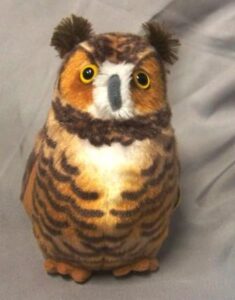 These stuffed animals licensed by the National Audubon Society have authentic raptor vocalizations from the Cornell Lab of Ornithology.  Each bird comes with an educational hang tag that includes natural history information about the bird you are purchasing.  All birds are approximately 6" tall.  All birds have Press Here stickers so you know how to make them vocalize.
You MUST add these to your flock!
Available in Great Horned Owl, Red Tailed Hawk, Peregrine Falcon, Bald Eagle, and Snowy Owl.