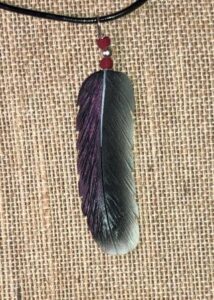 Silverhawk studios specializes in handcrafted bone jewelry. These beautiful feathers are hand carved from bison, elk or cow bone. Each feather is hand painted to resemble a raptor feather. Many of the Rocky Mountain Raptor Program's educational ambassadors have been the models for this one-of-a-kind feather jewelry.  Each piece has the artist's signature on the back of it, making each feather a signed work of art
This large feather pendant is approximately 2" long and 3/4" wide, and is held by a leather cord.
Choose from these feather styles:
In sequence with the photograph: Bald Eagle, Golden Eagle, Ferruginous Hawk, Rough-legged Hawk, Red-tailed hawk, Harris Hawk, Peregrine Falcon, American Kestrel, Great Horned Owl, Snowy Owl, Barn Owl.
New and Exclusive to RMRP - Turkey Vulture Feather.  Delicately painted to show the subtle grade from iridescent black to a shade of grey. Perfect for the Turkey Vulture Lover in your family!
Because each feather is hand-carved and hand-painted, some variance does occur.  Bead colors vary and can not be guaranteedunless you are placing a special order.  We would be happy to place a special order for you.  Please call 970-484-7756 and ask for Lisa.