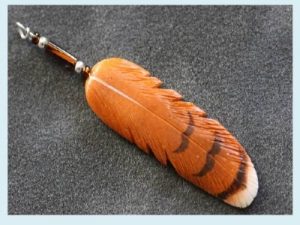 Silverhawk studios specializes in handcrafted bone jewelry. These beautiful feathers are hand carved from bison, elk or cow bone. Each feather is hand painted to resemble a raptor feather. Many of the Rocky Mountain Raptor Program's educational ambassadors have been the models for this one-of-a-kind feather jewelry.  Each piece has the artist's signature on the back of it, making each feather a signed work of art
This feather pendant is approximately 2" long and 1/4" wide, and is elegantly worn on a silver chain.
Choose from these feather styles:
In sequence with the photograph: Barn Owl, American Kestrel, Ferruginous Hawk, Great Horned Owl, Immature Bald Eagle, Golden Eagle, Northern Harrier, Peregrine Falcon, Red-tailed Hawk and Rough-legged hawk.
Because each feather is hand-carved and hand-painted, some variance does occur.  Bead colors vary and can not be guaranteed unless you are placing a special order.  We would be happy to place a special order for you.  Please call 970-484-7756 and ask for Lisa.
In the Silverhawk line we carry pendants on chain, large pendants on leather cord, and earrings.  Here is an image of all of them so you can determine what size of jewelry meets your personal style.