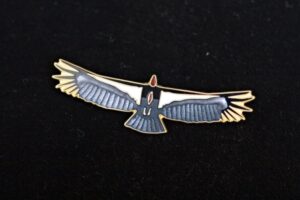 We have several brands and styles of vulture earrings, and pins for you to choose from, including Jabebo, William Speer, and Silverhawk.
Jabebo earrings are made out of recycled cereal boxes, surgical steel hangers, and original graphics.  Located in Bellefonte, Pennsylvania, Jabebo Earrings is committed to making fun and unique jewelry that ads a dash of eco-friendly charm to any outfit. Each earring is about 1/2 inch long.
High quality enameled pins by Wm. Spear Designs. Each pin is hand inlayed with glass and metal oxides one color at a time. After each color it is kiln fired meaning some of the pins have been fired up to 13 times. The base all this handiwork is layered upon is recycled copper from old ships, making each pin 80% recycled material.
New and exclusive to the Rocky Mountain Raptor Program, Turkey Vulture Silverhawk Earrings and Necklaces. These are hand-carved out of bison bone then hand-painted to resemble a Turkey Vulture feather. Show your love of this wonderful species by purchasing this exclusive item.