Thank you for your interest in volunteering or interning with the Rocky Mountain Raptor Program. Due to Covid-19, we are not offering new volunteer opportunities until further notice. We are assessing impacts of the virus and will re-open volunteer orientations when the threat passes in our community. 3/30/2020
Advancement through our various training levels depends upon your level of participation, comfort level, progress, ability to listen well and follow direction, and effectiveness in working with the birds. Your training will focus on the most efficient and safest methods of interacting with these often unpredictable, wild animals. At all levels, you will learn to understand bird behavior, health observations, proper nutrition and become sensitive to potentially
dangerous situations. Safety of people and raptors is paramount.
Level T (Trainee)

Our training program is designed to keep volunteers and birds safe as well as meet the training requirements of the Colorado Parks & Wildlife rehabilitation licensing.
After being accepted into the volunteer program, trainees embark upon learning how to provide basic husbandry care for the raptors in a system that is designed to be safe for the volunteer and the birds. First, the volunteer attends an in-depth orientation, which will be followed by a one-on-one training where they will learn the hands-on tasks of the job. The training program will also include a series of classes in nutrition, identification and natural history, disease, ethics, and legalities. Volunteers new in the training program must attend the first eight weeks of shifts without absence so the safety skills can firmly become second nature.
Level H (Husbandry)
Husbandry is the cornerstone of everything that happens with the birds. While training to be proficient in husbandry, you will learn how to safely clean cages, prepare food, feed birds, and maintain the work environment. You will work with other, more experienced volunteers. After meeting this level's requirements and feeling comfortable with working safely around birds, you can be evaluated and become an official Level H.
Important Note:
Every aspect of training beyond Level H involves hands-on care of the birds. While we value everyone's concern for the birds, we recognize that all humans have differing skills and abilities, and not everyone is suited to the skills required in caring for live wild animals. We must make sure that the birds are literally in good hands. Those volunteers who have acquired strong skills, are committed, and demonstrate listening and learning skills may have the opportunity to progress to assisting in the care and handling of Educational Ambassadors and/or rehabilitation patients.
Educational Ambassador Handling: Levels E1 & E2-5
Level E-1 volunteers are proficient at handling our approximately 20 permanently disabled Education Ambassador birds who are non-releasable due to their injuries. The RMRP provides more than 200 formal and informal presentations throughout Colorado each year. You may learn how to handle and feed these Educational Ambassador birds. You start by learning the skills to safely handle, feed, and care for all of the needs of the various raptors, from American Kestrels through Great Horned Owls. As your training progresses, you may begin assisting in RMRP's environmental education and outreach programs. Once you become proficient with these raptors, you may advance to the handling of larger and more challenging eagles by progressing through Levels E2-5.
Rehabilitation Tasks: Level R1
Catching & Restraining Active Case Birds
If you wish to focus on helping to provide rehabilitative care, you will learn to assist in the capture and restraint of birds for examination and treatment. You will learn to assist in a wide variety of care procedures, including catching, conducting physical therapy, weighing, cleaning feet, and conducting complete physical exams.
Your Future
All of the above training will provide you with amazing experiences that are hard to find anywhere else. Our in-depth training program is becoming more and more widely known as some of the premier training for those wishing to go into the animal care field. Volunteers from the RMRP have moved on to professions in a wide array of different wildlife care facilities including: The Denver Aquarium, The Wolf & Grizzly Discovery Center, The Denver Zoo, USFWS, The Kansas City Zoo, and several veterinary practices, to name just a few. We have had employers tell us that when they see the Rocky Mountain Raptor Program on a resume, that candidate will often be moved to the top of the list.
Whether seeking experience to move into a future career, or just wanting to give back to the world, volunteering at the RMRP will warm your heart and give you a fantastic experience not to be equaled anywhere else.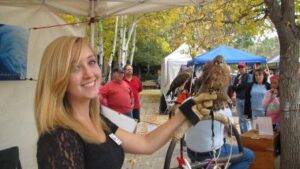 Best of all, you will be saving lives and changing the world!