The Rocky Mountain Raptor Program offers multiple different internships that provide interns with valuable skills and experience in many different fields.  These internships range from the Outreach Internship that covers nonprofit communications and fundraising to the Rehabilitation Internship that covers raptor rescue and rehabilitation.
Outreach and Education Internships
Running a wildlife care rehabilitation program requires public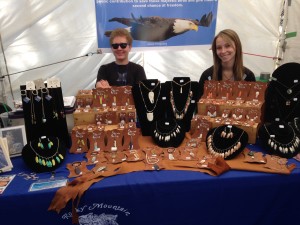 relations, friend raising and fund raising.  It takes many hands, minds and creativity to make all the connections needed for success in our community.  If you are a high energy, creative, outgoing person that wants to contribute to the RMRP and help us spread our wings and soar, we want you.
Internships are available year round and can vary from 2 to 30 hours a week depending upon time of year, your needs and our needs. The Summer Outreach Internship and Winter Auction Internship are a 3 month commitment. The Educational Presentation Internship is a 12 month commitment.  Internships are non-paid, and provide no housing.
To read more about the 2021 Summer Outreach Internship click here. Accepting applications Now.
To read more about the Educational Internship click here. Accepting applications between May 1 and June 30, 2021.
To read more about the Auction Internship click here. (Not yet active, check back, mid summer).
Rehabilitation Internship
With over 35 years of experience in the field of raptor rehabilitation,  the Rocky Mountain Raptor Program (RMRP) offers exceptional opportunities for learning about the rescue, care and husbandry, and rehabilitation of a variety of raptor species. 
The work can be intense, fast- paced and repetitive offering the intern an opportunity to gain hands-on experience in a rehabilitation setting and learn skills from diet preparation and general husbandry to basic medical care.  As an intern at RMRP you will be expected to work hard and get your hands dirty!
For more information on the rehabilitation internship and how to apply, click here.
The rehabilitation internship is now closed for 2021.