Mike Tincher, Rehabilitation Coordinator
"I consider being here at the RMRP an honor and privilege. To work with these magnificent animals and amazing people gives me hope for the future. Every day I am able to give back to a world that has given me so much over my lifetime!"

Mike Tincher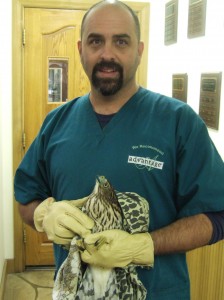 An avid outdoorsman, Mike joined the RMRP as a volunteer in 2004, and became a staff member in 2006. As Rehabilitation Coordinator, Mike is involved in all aspects of rehabilitative care from the moment we receive a call that an injured raptor is on the way and all the way until the bird is released.
He coordinates/performs rescues and then is responsible for triage and assessments of all the incoming raptors. He also coordinates ongoing medical care of all raptors in rehabilitation and the non-releasable Educational Ambassadors at the RMRP. He oversees day to day raptor care and works closely with the Rehabilitation Director in all aspects of raptor care, research projects and facilities oversight. Mike also is responsible for procuring the several tons of food that the RMRP raptors consume every year.
Besides his dedication to giving raptors their Second Chance at Freedom, Mike is extremely passionate about the conservation issues that raptors in Northern Colorado and Southern Wyoming are facing today. He also works as the RMRP liaison with the Colorado Parks and Wildlife Commission.
Mike is a fully licensed Wildlife Rehabilitator in the state of Colorado. He has participated in a Homeopathic Skills Workshop for Wildlife Rehabilitators. Outside of the RMRP, Mike participates in field work trapping and banding raptors every fall.
21 years in the shipping industry
8 years in farming
10 years breeding and training Labrador Retrievers
Homeopathic Skills Workshop for Wildlife Rehabilitators
Colorado Parks & Wildlife Licensed Raptor Rehabilitator
Published Works:
J. Dwyer, M. Tincher, R. Harness, and G. Kratz. Testing a Supplemental Perch Designed to Prevent Raptor Electrocution on Electric Power Poles; Published in Northwestern Naturalist
J. Dwyer, G. Kratz, R. Harness, S. Little, and M. Tincher. Critical Dimensions of Raptors on Electric Utility Poles; Published in Journal of Raptor Research