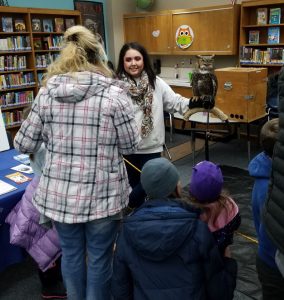 Presentations for grades 1-12 are custom-tailored according to the age, background, interests, attention span and classroom curriculum. Our programs meet State of Colorado curriculum standards and complement the coursework of local school districts while highlighting the interconnection of all life forms, diversity within our world, and the responsibility of humans to be stewards and protectors of our natural resources.
Before visiting, the Rocky Mountain Raptor Program presenter will work closely with you to develop a presentation that can be integrated into your existing curriculum.
Programs are available to home-schooled children, youth, teen, adult organizations, universities and colleges, or any group looking to learn.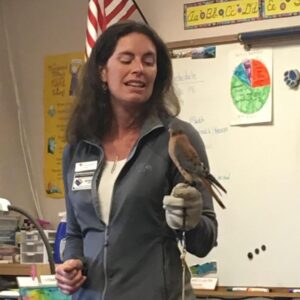 Businesses can also enjoy our educational programs! Feature the RMRP for a lunch-and-learn, development session, or a special surprise for your hard working team.
We also offer Virtual Programs for far away fans!
Choose from four program topics:
Raptor Tools: Learn what defines a raptor and discover their adaptations, or tools, for survival. *Our most popular program!*
A Space in Which to Live: Choose from Mountains, Plains, or Urban habitats and discover the local raptors and those spaces they call home.
One of Many: Choose one group of raptors to explore in depth: Hawks, Owls, or Eagles. Compare multiple examples of each group to discover what makes each species unique. *Eagles program may have seasonal limitations.*
RMRP and Conservation: What is the RMRP?  What do we do to aid in raptors lives and how do we do it?  What challenges do raptors face in the world?  Learn about our mission, the raptors we care for and how you can help!
None of the listed programs quite fit the bill? We can create something unique for you!  Make note of what you are looking for on the education information request form.
If you are hoping to schedule a program or appearance with the RMRP for your event, group, or class please be prepared to schedule at least *10 weeks* in advance for your preferred date due to high demand.  Complete our education information request form to begin the scheduling process.
Due to high volume and limited personnel, information requests are reviewed and responded to twice a week, your patience is appreciated!