Presentations for students K-12 are custom-tailored according to the age, background, interests, attention span and classroom curriculum. Our programs meet State of Colorado curriculum standards and complement the coursework of local school districts while highlighting the interconnection of all life forms, diversity within our world, and the responsibility of humans to be stewards and protectors of our natural resources.
Before visiting a classroom, the RMRP instructor will work closely with the classroom teacher to develop a presentation that can be integrated into existing curriculum. For example, life science teachers may concentrate on how raptors interact with the environment. Raptors can also stimulate interest in other topic areas, including the cultural myth and lore around a species. Programs are also available to home-schooled children and youth organizations.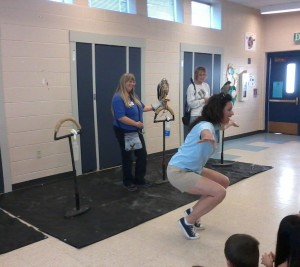 Possible Presentation Topics:
Raptor Rapture (a raptor introduction program for young audiences)
Raptor Tools (adaptations)
Habitat Is Where It's At (habitats)
Plotting a Course (migration)
The Secret World of Owls
Owl Myths and Legends
Here Today; Gone Too Soon (endangered and threatened species)
Wildlife Medicine/Rehabilitation
Travel by Air (raptor flight techniques)
Recycling is Not Just for Humans—the Turkey Vulture: Earth's Garbage Collector
The North American Fish Eagle (Bald Eagle)
The Largest Booted Eagle (Golden Eagle)
Raptors of the Great Plains
Urban Raptors—Who Are Your Neighbors?
If you are hoping to schedule a program with the RMRP for your group, please be prepared to schedule *30 days in advance for your preferred date of the program.*
RMRP is experiencing an increase in demand of educational programs, so we must be more prepared to meet the needs of our clients, and planning further in advance is our best hope to meet the requests on our time. Please fill out this form to ensure the correct details can be obtained.