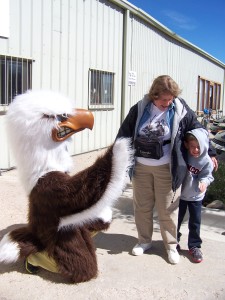 Our facility is not open to the public on a regular basis to allow us to provide quality care to our patients in a low stress environment. However, a few times each year the Rocky Mountain Raptor Program opens our doors to let you tour the facility and learn about how we do our life-saving work.
Check our events calendars to confirm the dates of upcoming open houses.
Our facility is located at 720 East Vine Drive in north Fort Collins. Open houses run from 11 am to 3 pm.
Guests will learn how our feathered friends receive care so that many of the 300+ individuals we treat annually can return to the skies. Educational Ambassador raptors will be on display and volunteers and staff will be on duty to answer your questions. Learn about volunteer opportunities with the RMRP, be inspired by the majesty of raptors and the passion of our team, and discover ways you can help the raptors at home. The Raptor Gift Shop will also be open for raptor themed merchandise and gifts.
To check the dates of the next open house check our events calendar.