The Rocky Mountain Raptor Program's comprehensive Environmental Education Program provides live presentations and exhibits throughout the region each year, teaching students and adults the importance of protecting wildlife and wild places. Raptor biology, natural ecology and many other topics teach audiences about wildlife and the natural environment around them.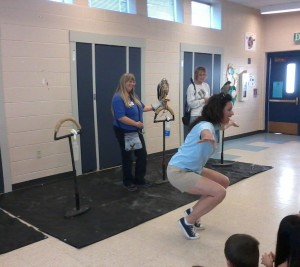 We utilize creative props, recorded sounds and a wide variety of interactive tools to inspire audiences of all ages to realize the beauty and importance of raptors, as well as an understanding of their place in the natural world.  Our most important props are our Educational Ambassadors, live birds who are permanently disabled but have found a rewarding career in becoming "teaching assistants." We take pride in our ability to custom-tailor each presentation to the interest and needs of the audience, students and teachers.
Each year, over 130 live presentations reach more than 15,000 school children throughout Colorado. Free programs for adults and families are given during the evening throughout the year at various locations of the Poudre River Library District. September through November, "Birds of Prey," an extensive six-part class, is offered to adults for a fee.  Numerous outreach exhibits reach hundreds of thousands of people annually.
If you are hoping to schedule a program with the RMRP for your group, please be prepared to schedule *30 days in advance for your preferred date of the program*.  RMRP is experiencing an increase in demand of educational programs,  so we must be more prepared to meet the needs of our clients and planning further in advance is our best hopes to meet the  requests on our time. Please fill out this form Complete our education information request to ensure the correct details can be obtained.