Becoming an Education and Outreach Volunteer
Volunteers within the education department are key players in the RMRP's ability to provide conservation education about raptors. Inspiring young and old to care about and conserve these magnificent birds is the primary job of educational volunteers. Seeing the look of awe on a child's face when they see an owl or hawk up close and in person is very rewarding.
Volunteers will assist with formal and informal education and outreach events. Volunteers will begin by learning how to provide basic husbandry for permanently disabled ambassador raptors. This will include cleaning enclosures, feeding raw natural food, making observations of raptor health and behavior, enclosure maintenance, facility maintenance, and a variety of other duties. All duties, no matter how small, are critical for the RMRP to be able to continue to function on a daily basis.
We are looking for people that are dedicated, self-starters, willing to work hard, willing to get dirty, detail-oriented and enthusiastic. The volunteer that demonstrates reliability, attention to detail, quality communication skills, creative thinking, and dedicated to learning will be most successful and find volunteering here very rewarding.
Position is unpaid. Housing is not provided. Volunteer is expected to have their own transportation to and from the RMRP facility.
Please read the full Educational Trainee Job Description here.
Time Requirements: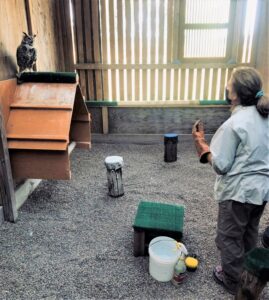 Volunteering with Education and Outreach requires a commitment of 5 shifts per month, each shift approximately 4 hours long.
Educational raptor care shifts run 8:30am to 12:30 every day of the week. Volunteers will be expected to commit to a consistent day each week
At least one extra shift at an educational or outreach event required monthly. Times variable.
Length of volunteer commitment is a minimum of 1 year. The longer volunteers are present, the more opportunities may exist to advance within the RMRP. Individual volunteer experience, skills, reliability, and performance of duties, will determine the range of activities volunteers will be able to participate in.
Volunteers will be expected to complete a variety of virtual and in-person training classes and quizzes. Virtual training is conducted via Google Classrooms.
We Ask You to Stay With RMRP:
A minimum of 1 year. There is no maximum commitment.
Length of volunteer commitment is a minimum of 1 year.. The longer volunteers are with us, the more opportunities for unique raptor experiences exist within the RMRP.
We have some wonderful volunteers that have been caring for raptors here for over 30 years. We hope you will also be with us for a very long time. Becoming an RMRP volunteer often results in life-long friendships, and we hope you will become one of our very best!
Expectations and Requirements:
Key Points:
Must be 18 years of age or older.
Be able to meet consistent weekly attendance requirements.
Must pass a criminal background check.
Have a current tetanus shot.
Pay a dues fee of $35 for the first year and $10 renewal dues annually.
Understand that you will be working with and around potentially dangerous predators, and agree to follow all safety protocols.
Understand that you will be working with/or exposed to cleaning chemicals (safety equipment is provided), feces, urine, blood, raptor bodily fluids, and raw meat/organs (prey items).
Be able to meet the physical requirements of the position: walking/standing on concrete, uneven surfaces, in gravel, mud, dirt, snow, standing water, and ice. Physically active with the ability to kneel, bend, stretch, lift, reach, carry and full body maneuverability. Hand strength and grip ability with occasional fine finger dexterity.
Ability to work indoors and outdoors in all weather conditions and temperatures.
Ability to communicate well in written and oral forms including hearing and talking with members of the public.
Benefits and Rewards: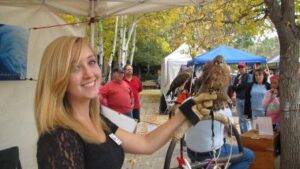 Working with and around live raptors.
Changing the world by inspiring hearts and minds to conserve raptors and their habitats.
Extensive training on all aspects of raptor care, which can be the basis for future education or employment in a variety of careers. Subjects include Diet and Nutrition, Ethics, Laws and Regulations, Diseases, Behavior, Anatomy & Physiology, Identification and Natural History, and more.
May exchange hours worked for merchandise in the gift shop
In some cases may receive school credit.
Positive self-esteem knowing you have helped a local 35 year old non-profit to continue to fulfill its mission: Inspiring the protection and appreciation of raptors and the places they live through excellence in rehabilitation, education, and research.
Best of all, you will be saving lives and changing the world!
Positions Available – Apply Today
Positions are currently available!
Accepting applications now for training to begin in Summer 2023.
To Apply for this position, send an e-mail to Lisa Winta, Volunteer Coordinator and request the link for the volunteer application. Lisa@rmrp.org.