The Rocky Mountain Raptor Program offers multiple types of sponsorship opportunities. Sponsoring RMRP allows your company to support a great cause while getting your name out in the community. RMRP has an extremely large reach in the community: we have over 150 volunteers, our newsletter circulates to over 8,000 people, and we talk to thousands of people annually at community events.
By supporting our program, you are helping us save lives and provide care for birds that would otherwise be ignored. We are extremely committed to those who sponsor us and want to help our sponsors reap the promotional benefits of helping our organization as much as possible. We want to bring attention to the ones that help us grow and thrive.
Opportunities for sponsorship include becoming a programmatic sponsor or sponsoring our annual calendar, Annual Gala and Fundraising Auction, or individual events.
For more information on sponsorship, contact Carin Avila, Executive Director – carin@rmrp.org, (970) 484-7756.
Sponsoring Partner for 2019, 2020, and 2021
Thank you to Platte River Power Authority for sponsoring the work of the RMRP throughout 2019. Platte River Power Authority is generously sponsoring the nutritional care for 5 rehabilitating raptors and 9 educational raptors for one month, 26 tests for lead toxicity,  3 Open Houses, and underwriting the costs of 6 K-12 school presentations at our facility.  This support generates our ability to provide "A Second Chance at Freedom" and to inspire minds.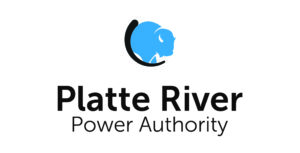 202 Auction Naming Sponsor
Thank you to Hillside Construction for being the naming sponsor for the 29th Annual Fundraising Auction and Gala.