At the Rocky Mountain Raptor Program, volunteers are
indispensable to everything we do.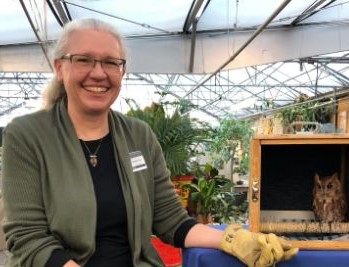 As a volunteer, you can help provide A Second Chance at Freedom to hundreds of eagles, owls, hawks, and falcons that are injured or suffer illness each year. You can also help to inspire hearts and minds, young and old, to conserve raptors and the spaces we share with them. Volunteers and interns provide healing care, participate in educational programs and outreach, offer clerical support, and help with our day-to-day operations. Would you like to change the world by joining our team?
All volunteer applicants go through a screening process, which includes completion of application, interview, and background check. Volunteers must be over 18, have a current Covid - 19 vaccination(s), those working with animals and maintenance must also have a current tetanus vaccine, and be able to meet the requirements of the applied for position.
Please read the details of the position you are interested in to find out how and when to apply. You may also e-mail Lisa Winta, RMRP volunteer coordinator for more information, Lisa@rmrp.org.
Currently Available Volunteer and Intern Opportunities
Learn more by clicking the link or scrolling down. Opportunities currently available:
Education and Outreach Volunteer – Year Round
Auction Planning Volunteer - November to March - Continue scrolling for information.
Education and Outreach Volunteer
Volunteers within the education department are key players in the RMRP's ability to provide conservation education about raptors. Inspiring young and old to care about and conserve these magnificent birds is the primary job of educational volunteers. Seeing the look of awe on a child's face when they see an owl or hawk up close and in person is very rewarding.
Volunteers will assist with formal and informal education and outreach events and provide basic husbandry duties to care for permanently disabled ambassador raptors. Volunteers in the educational department will be required to work a regular weekly shift that runs from 8am - noon in summertime and 9am to 1pm in winter as well as work additional shifts at outreach and education events as they are scheduled. Shifts occur 7 days a week.
Auction Planning Volunteer
We are seeking someone that is motivated to make a big impact by helping to plan and run the RMRP's annual fundraising auction, held on February 26th, 2022.
The ideal candidate is well organized, detail oriented, and outgoing. This volunteer position will include donor relations, seeking item donations, photographing and cataloging of items, database and website updating, and many other duties to help plan a successful fundraising event. Hours would need to be completed during normal business hours Monday through Friday. Hours per week can range from 6 to 20 hours with the heaviest need in February. Exact times can be negotiated. The internship runs from November through mid-March.
If you are interested in this opportunity please send an e-mail for more information or to apply to Lisa@RMRP.org.
Education and Outreach Internship
We have a variety of intern opportunities in our education department. Each of these positions works to further the conservation education aspect of our mission. These internships are for the person which would like to accomplish a specific learning goal and has more time to commit than the Educational Volunteer position requires. Internships can be completed for school credit or for personal growth.
Summer Outreach Internship - Internship runs May through August; Application window is January 1 - April 20.
Education Presentation Internship - Internship runs from August through August. Application window is April 20 - June 30.
Seasonal Rehabilitation Internship
If your interest lies with wildlife rehabilitation, the seasonal internship position may be what you are looking for. The season runs from May through October 2022. Applications will open on January 1 and must be submitted by March 31, 2022.
Facility Maintenance Volunteer
Position will include general chores around the facility. These will include but not limited to; sweeping and moping, cleaning restrooms, folding laundry, scrubbing dirty towels, cleaning raptor perching materials, cleaning mouse cages, picking up trash on the 26 acre property, other duties as assigned.
While none of this is glamorous, it is all critical to help our facility run and be able to fulfill our mission, Inspiring the protection and appreciation of raptors and the spaces they live through excellence in raptor rehabilitation, education, and outreach.
Times of shift and day of the week can be negotiated. We are looking for a couple of hours a couple times a week. Shift must be completed between 8am and 4pm. This can be a starter opportunity to work into other aspects of the volunteer program of the RMRP. Time- frame will be no less than two months.
If you are interested in this opportunity please send an email for more information or to apply to Lisa@rmrp.org.