This young male American Kestrel was admitted on Thursday (6/26) from Fort Collins,CO.The bird was found in the middle of the street and apparently been hit by a car. On admit he had very limited use of his legs.He was quickly examined,given medications for pain and place in one of our oxygen cages overnight. A post admit exam found some swelling to the lower portion of the spine. Though his prognosis is still extremely guarded at this point, he has made some significant improvement over the last two days. The little falcon is able to eat on his own if the bite size pieces are placed close enough to him and he has regained a little strength in both legs.
He has a long way to go,but time and a lot of Kestrel attitude could be the right stuff for recovery!
Young American Kestrels are fledging (left the nest and learning to fly) all over the region right now.Their whole world is a great big jungle gym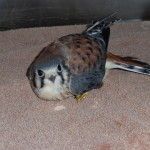 . Bushes,trees garages,light poles,lawn chairs and even garden gnomes are great places for them to perch. Anything that they can fly, flitter and clamber on to aids in building their confidence and flight ability. If you see one of these little guys, or just about any type of bird this time of year doing this.......it's normal. They don't necessarily need rescuing, maybe they just need time.
If you see a young bird that has all of its feathers in and it is behaving like this, please give it a wide berth and a little time. Just observe it and see what happens. After some observation time and you aren't convinced that the bird is healthy, by all means give us a call.
Raptors only of course.  😉