Winter has finally arrived here in Northern Colorado bringing with it snow and cold temperatures.  2012 was a year filled with challenges:  fires that displaced both people and wildlife, drought that left many animals searching far and wide to find food, and West Nile virus that once again reared its ugly head and had a significant impact on raptors and humans. With hardly a moment to stop and process the lessons from 2012 we are thrown into a new year.  While there is still a lot to learn from this past year, we do know one thing for sure………
We survived!!
We are here to care for the majestic raptors that call this area home.  When they are sick, injured or orphaned and need help, the staff and volunteers of the Rocky Mountain Raptor Program will be here 24/7 to give them the best possible care and do everything we can to give them their best shot at a "Second Chance at Freedom".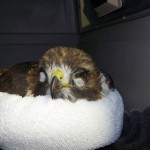 We can only do this important work with the support of all of YOU who care as passionately about raptors as we do.  For YOU we are deeply grateful.
We do not know what challenges lie ahead for us in 2013, but we stand ready……bring it on!!  We hope YOU will be here with us too.