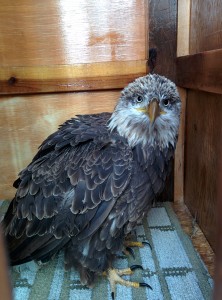 See Video of Release!
On November 20, 2014 the RMRP admitted a 4th year Bald Eagle from the area of Weldona, CO. This male eagle had been hit by a Ford F350 pickup truck and had to be extracted from the grill of the truck by Todd Cozad a Division of Parks and Wildlife Manager.
The bird was transported to RMRP to begin the road to recovery. With care, compassion and our expertise in rehabilitation and a short 54 days later we returned this bird to the skies again. Here is a short video of that exciting moment. 
If you are a donor and supporter of the RMRP – you did this! If you are not yet a donor, you still can be and aid in our life saving work.  You made the difference in this young Bald Eagle's life! Well done and THANK YOU!
Donate HERE to give more birds just like this one "A Second Chance at Freedom!"
You can read more about how we rehabilitate birds in this article by Sarah Jane Kyle of the Coloradoan.