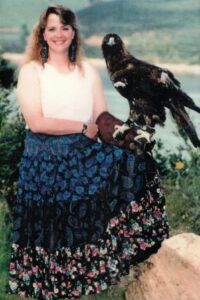 The Rocky Mountain Raptor Program's Executive Director, Judy Scherpelz, is retiring after 30 years of devotion to the program she built. Judy says, "I am proud to have been part of this adventure, but the time has come to start a new journey. I am retiring, entrusting the mantle of Executive Director to our long-time staff member and Education Director, Carin Avila. You have known and loved her for 16 years, and she is very excited to start this new path on her own journey."
Thirty years ago, Judy Scherpelz took the program from the small student club it started as in 1987 to the nationally recognized, leading edge program it is today. She was charged with taking a student club, dabbling in raptor rehabilitation and turning it into a community resource that ensures excellence in raptor rehabilitation, education and research. Her drive has brought the program through 30 years of growth and accomplishments, and she has inspired those who work beside her to continue her legacy going forward.
"You have been with me along the way. You have held up the RMRP while it struggled to get off the ground and cheered while it soared," says Judy, while reflecting on the RMRP's friends, supporters, and volunteers. "You will be a part of me forever, as I could never forget those who helped bolster a mission thirty years in the making."
The transition from Judy to Carin will take place through December 2017; Judy Scherpelz will remain active with the program as Chairman Emeritus in an advisory capacity.  Judy's farewell and Carin's welcome will be at the 25th Annual Gala Dinner and Benefit Auction taking place on March 3, 2018 at the Fort Collins Hilton. If you would like to join us for this landmark event, tickets will go on sale online January 1st, 2018.
We hope everyone will join us in sending off Judy with our best wishes and welcoming Carin with exuberant congratulations!
"Thank you for being with me on this remarkable journey. I know I can count on your continued support for the RMRP."
[row]
[one-third]
[/one-third]
[one-third]
[/one-third]
[one-third]
[/one-third]
[one-third]
[row]
[one-third]
[/one-third]
[row]